This newly launched Countryside-style luxury safari tent has a large balcony in front, and the wooden house shape combines the freshness and the natural beauty of the countryside and the jungle. The PVC fabric top, the high-quality Oxford fabric outer wall, the steel-wood integrated structure(TYS-36), and the steel structure(TY-32) framework provide a spacious and flexible room that can be easily decorated with furniture, appliances, facilities. The safari tent is no longer a simple shelter but also lets guests enjoy a better glamping living experience.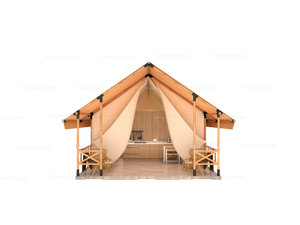 TYS-36
Single room with bathroom
TY-32
Single room with bathroom
 Important Notice: Above Safari Tent prices are products' STANDARD configuration price, and not including the shipping cost.
| Model | Dimensions | Floor Area | Height(Eave/Top) | Framework | Roof Material | Sidewall Material | Door & Window |
| --- | --- | --- | --- | --- | --- | --- | --- |
| TYS-36 | 4.5mx8m | 27M2 | 2.5m/4m | Steel and wood structure | 850g/m2 PVC Fabric | 1680D Oxford Fabric | 1 door 4 windows |
| TY-32 | 4.5mx7m | 31.5M2 | 2.2m/3.5m | Steel structure | 850g/m2 PVC Fabric | 1680D Oxford Fabric | 1 door 2 windows |
Configurations
Standard Configuration
Framework, Outer Cover, Insulation Liner, Suspended Ceiling, Outer Walls, Windows & Doors
Optional Configurations
Interior Wall, Kitchen Module, Flooring, Bathroom module(toilet, washing basin, and shower), Radiant Floor Heating System
Optional Furnitures & Accessories
Bed, Stand, TV Stand, Sofa, Chair, Air conditioner, TV, Hair Dryer, Lamps, Curtain, Hang Decorations, Beddings, etc.
Applications
The resort guest room, glamping lodging.
Lodging lobby, reception hall, functional hall(YYS-64)l.
Other resort functional facility buildings.