What is your favorite glamping tent?
There are many different types of glamping tents. The most popular types are safari tents, glamping dome tents, safari lodge tents, bell tents, and yurts. Compare to traditional tents, these new luxury glamping tents offer many shapes, styles, and options.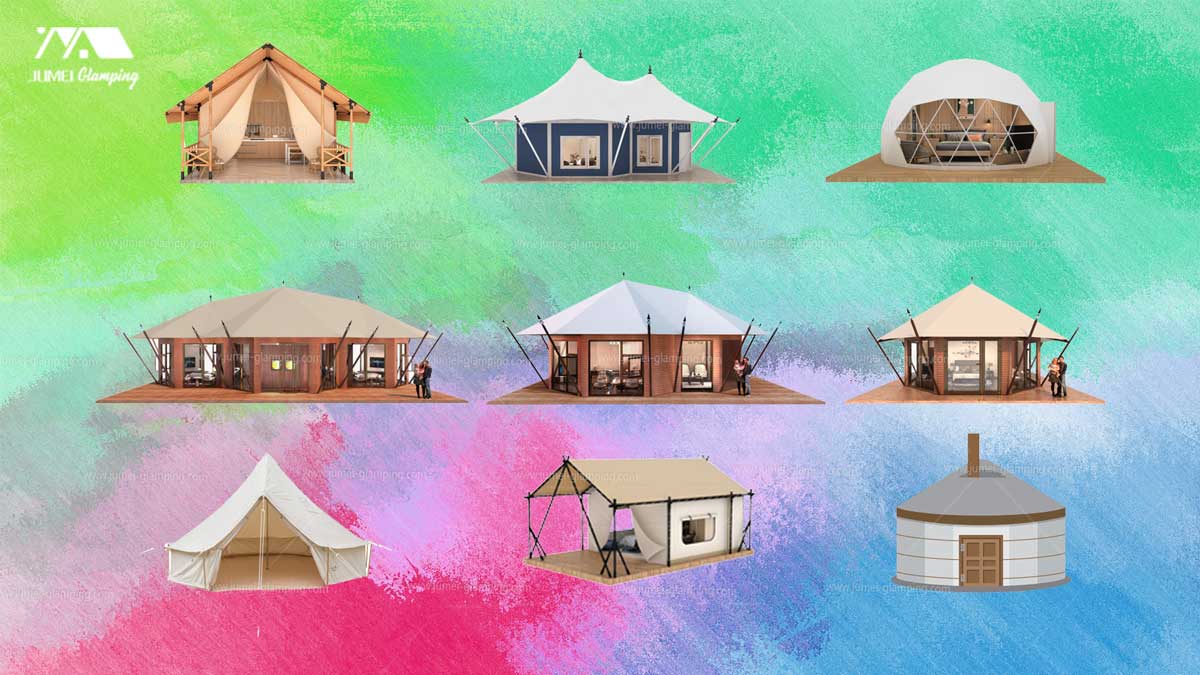 The Safari Tent is also known as the wall tent or sheepherder tent. It is a kind of tent with four straight vertical walls that provide more headroom than traditional pyramid-shaped tents. Safari tents are made of heavy canvas as the outer cover, and steel or wood posts as the support frames. Safari tents are suitable as the four-season tent. Safari Tents are sturdy and more lightweight than houses, huts, or glamping pods. They are easy to transport and not too difficult to set up.
In recent years, through continuous improvement, redesign, and innovation, it has become one of the most popular glamping tents. Jumei provides more than six styles of safari tents from small a-frame-like, triangle shape pastoral-style basic safari tent to large specially designed wilderness palace-like style glamping safari tent .
Glamping Dome Tent is one kind of geodesic dome tent designed for glamping purposes, it has a spherical or rounded surface, eye-catching and elegant look. It is easy to fully equipped with household facilities, appliances, kitchenware, and easily installed everywhere to provide a unique, comfortable, and stargazing-able living experience. So it is widely used for glamping camping, resort, hotel, and Airbnb hosting.
The solid and safe structure, portable installation package, sufficient accessories make glamping dome tents more and more popular these years. The exciting part about glamping dome tents is the many ways you can set them up. You can even use larger dome tents as functional facilities, such as reception halls, conference halls, restaurants, yoga domes, and event halls.
Jumei provides various size glamping dome tents from 4m to 10m with sufficient accessories and options for different solutions and floor plans. And we provide tailored solutions to meet your individual needs and fit your budget with care.
Play Video
Glamping Dome Tent Sample Video
Safari Lodge Tent, as the name suggests, is Safari + Lodge + Tent. With the feeling of Safari, the space is as huge as a luxurious Lodge, but the style following the style of the tent with steel or aluminum frames, durable PVDF fabric canvas, glass curtain, and wood veneer wall, and maybe a platform or hard flooring. This commonly polygonal structure is a new style of glamping tent. Beneath the canvas roof of the safari lodge tent, you could find everything from the exquisite and distinctive interior decoration to a comfortable bed to a private bathroom to electrical appliances. All these features give people a more luxurious, gorgeous, and comfortable living experience.
In addition, people developed larger safari lodge tents, which can be used as a variety of functional facilities, such as the reception hall, restaurant, entertainment space, and so on for the resort.
Jumei provides more than 15 styles of new design safari lodge tents. These new design safari lodge tents are including luxurious, refreshing, graceful, elegant, and Thai styles which will make your campsite unique all at once. And the spacious and polygonal interiors of these tented structures allow you for simulation of home/lodge spaces and almost no limit to the potential for luxury.
Play Video
Luxury Lodge Tent Sample Video
Yurts are round trellis-walled shelters that come in many different sizes. The design has been around for many centuries. One thing all yurts have in common is they are all circular. The roof structure is often self-supporting, but large yurts may have interior posts supporting the crown. The top of the wall of self-supporting yurts is prevented from spreading through a tension band that opposes the force of the roof ribs. Modern glamping yurts may be permanently built on a wooden platform, they may use modern materials such as steam-bent wooden framing or metal framing, canvas or tarpaulin, plexiglass dome, wire rope, or radiant insulation.
A bell tent is a human shelter for inhabiting, traveling, or leisure that has been used since 600AD. The design is a simple structure, supported by a single central pole, covered with cotton canvas. The stability of the tent is reinforced with tension by guy ropes connected around the top of the walls and being held down by pegs around the circumference to the ground. It has a circular floor plan of some 10 ft and larger.
The multiple sizes of bell tents can be suited to their use or preference and most have a spacious interior, with room to sleep of several people.
Lastly, glamping tents are nothing like regular camping tents. The whole point of glamping is to have a different, comfortable, and glamorous camping experience from ordinary camping. Hence, the glamping tents are better, more unique, more luxurious, and offering modern-day conveniences such as A/C, WIFI, custom decks, hot water, flushing toilets, and fully furnished beds.
With so many glamping tents available to choose from, there must be a suitable one for your campsite, Airbnb house, or resort with the right style and living arrangement.