New Glamping Pod or Traditional Glamping Pod?
There are many different types of glamping pods including Traditional Glamping Pod and New Glamping Pods. The glamping pod originated in the UK. In the UK, many people only call the traditional timber-made pod a glamping pod. In North America, many people also call cabin, hut, glamping dome, a-frame cabin, or other pod-like shapes structures as glamping pod.
Below, we will introduce the popular and new style glamping pod in a broad sense.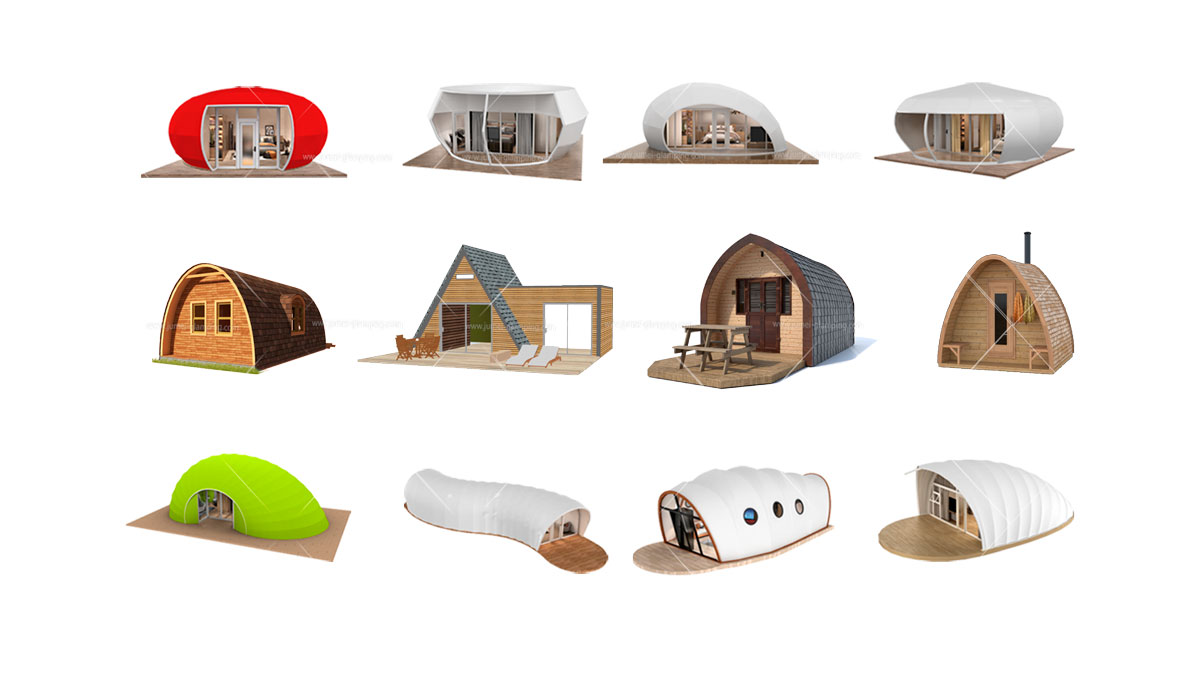 The glamping pod originated from the camping pod. The camping pod is a wooden round shape cabin or hut used for camping. Since most camping pods only offer a warm and dry place to sleep, their space is very cramped, and the internal facilities are relatively simple. Inside you'll typically have lighting, a small heater, carpet, and blinds on the door. You'll need to bring some things along to camp in like a sleeping bag, pillow, cookstove, mess kits, and towels.
Compare to the camping pod glamping pod also small, but it is a little bigger. And these wooden structures are designed as more comfortable than traditional camping pods. Some glamping pods offer a more glamping type living experience with an en suite bathroom and running water, but most are still simple.
Glamping pods are typically made of wood frame, metal rooftop, and cladding wall, glass window, and lives like a hut or cabin but smaller. They are often with sloping, round rooves, which give pods a distinct look compared with tiny homes or other small, wooden glamping units.
According to the size, configuration, construction material, and quality of the glamping pod, the price of the glamping pod ranges from several thousand dollars to tens of thousands of dollars.
The glamping pod is generally 5-12 meters long and 2-4 meters wide. However, most suppliers provide customized services.
Recently, compared with the traditional glamping pod, more new styles of glamping pod have been developed and improved, such as the conjoined original glamping pods.
And manufacturers also developed many new types of glamping pods with new materials and new shapes which are different from the traditional sloping and round rooftop.
The new type of glamping pod in various shapes is lightweight and colorful with new materials. This newly designed glamping pod generally uses a steel frame, the lighter PVDF, PVD canvas of outer cover, the aluminum alloy doors and windows, and the wooden or laminate wooden floors. Because the building materials are more lightweight and can be assembled and installed in the camp, the new glamping pod can have a larger floor area, generally more than 30 square meters (322 square feet).
Comparison of Glamping Pods
Traditional Glamping Pod
New Glamping Pod
Shape
Sloping, round rooftop
Round, polygon, easily custom
Waterdrop, Shell, more shaped pods.
Color
Wooden color
White, colorful, easily custom
Frame Material
Timber
Steel
Cover
Timber,Wood-like metal roofing (steel, zinc)
PVDF,PVC,Canvas
Floor
Wooden, Laminate wooden
Wooden, Laminate wooden, Others